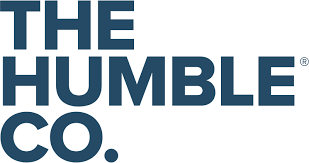 The Humble Co. is opgericht in 2013 door de tandarts Noel Abdayem. Na vrijwilligerswerk op Jamaica kwam Noel Abdayem terug met een missie: om iedereen de middelen te bieden om lijden en invaliditeit, veroorzaakt door mondziekten, te voorkomen, zonder de planeet hiermee te schaden. Dit resulteerde zich in het oprichten van Humble Co. Dit innovatie bedrijf op het gebied van mondzorg is gevestigd in Zweden. Naast innovatieve mondzorg houdt het bedrijf zich ook bezig met efficiënte, milieubewuste productie, distributie en nazorg. Humble Co. vind het noodzakelijk om nieuwe manieren te vinden om zo oude problemen op te lossen en het milieu te beschermen. Alle producten zijn bedacht, ontworpen en gefabriceerd onder begeleiding en toezicht van tandartsen. Met een mooi en eenvoudig ontwerp, is de bekende bamboe tandenborstel ontstaan: Humble Brush. Ze willen een serieus alternatief bieden voor gewone plastic tandenborstels. De wereld verbruikt elk jaar meer dan 3,6 miljard plastic tandenborstels, waarvan de meeste op stortplaatsen en in oceanen terechtkomen. Het bedrijf wil dat dit stopt en wil geen gebruik van kunststoffen. Ze gaan zelfs een stapje verder dan dat en noemen het zelfs vechten tegen oceaancriminaliteit. Ze gaan de strijd tegen de plastic tandenborstels aan. Ze vinden het een misdaad om de hoeveelheid plastic afval te zien die iedereens omgeving vervuilt en vergiftigt. Ze roepen iedereen op om dit tegen te gaan, want er is geen "Planet B".
The Humble Smile foundation
Met een aankoop van een Humble Co. product, steun je de Humble Smile Foundation. Deze stichting gaat verder dan het geven van producten aan kinderen in nood. Ze leveren ook professionele en duurzame gezondheidszorgprojecten waar ze het meest nodig zijn over de hele wereld, rechtstreeks gefinancierd door je aankoop. Veel kinderen over de hele wereld hebben geen middelen om voor hun mondgezondheid te zorgen. De tandheelkundige kliniek is te ver weg. Ze hebben geen tandpasta en ze hebben geen tandenborstel. Wat ze wel hebben, is voedsel wat veel suiker bevat. Het resultaat is vaak pijn, tandverlies, school uitval, handicap en verminderde psychologische en fysieke ontwikkeling.
De Humble Smile Foundation, een groep toegewijde tandheelkundige professionals en academici, ontwikkelt modellen waarbij vrijwilligers teams samenwerken met lokale schoolmedewerkers. Ze promoten (specifieke op gedrag gebaseerde) preventie mondgezondheidsinitiatieven, waaronder dieetinterventies, gecontroleerd tandenpoetsen en klinische procedures. Andere activiteiten zijn: pleitbezorging, onderwijs; onderzoek, handen wassen en dringende mondzorg. De school is omgevormd tot een mondgezondheidsscheppende school. Zo ondergaan ook de tandheelkundige studenten een leerzame en persoonlijke transformatie.
Waarden
Alle producten van The Humble Co. worden gekenmerkt door een aantal waarden:
Gezondheid / Wellnessproducten die de kwaliteit van leven verbeteren door het verbeteren van levensstijlkeuzes en gewoonten. (Preventie)
Premiumproducten met een productieproces en een eindresultaat die de consument het gevoel geven een product van superieure kwaliteit te bezitten. (Premie)
Evidence-based innovaties die door professionals worden onderschreven om consumenten het vertrouwen te geven om de overstap te maken. (Professional)
Eco-vriendelijke productie, verpakking en verwijdering van het product voor de laagst mogelijke ecologische voetafdruk. (Planeet)
Maatschappelijk verantwoorde distributie van producten om de meest behoeftigen te helpen - beheerd door Humble Smile Foundation. (Mensen)
Verhaal vertellen in een eenvoudige taal als basis voor communicatie met de consument voor eenvoudige en betekenisvolle identificatie met het merk. (Plain)
Winstgevendheid als het mechanisme voor het stimuleren van groei en impact, terwijl producten concurrerend en comfortabel blijven in de gemiddelde consumentenwagen. (Winst)