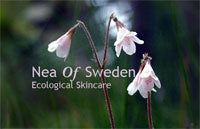 Nea of Sweden maakt natuurlijke ecologische verzorgingsproducten met zo min mogelijk afval: zero waste! Bekendste producten zijn de heerlijke hand gemaakte All Natural & Vegetable Soap & Shampoo Bar. Een heerlijke 4-in één zeep: lichaam/gezicht-, shampoo-, conditioner- en scheerzeep.
Beschikbaar in varianten:
Natural
Olive
Lavender Mint
Marigold (goudsbloem)
Tea Tree
Rosemary
Chamomile (kamille)
Avocado
Rose
Nettle (brandnetel)
Vanilla
Carrot (wortel)
Neroli,
Lemongrass
Patchouli
Rhassoul
Nea Of Sweden is een familiebedrijf en wordt gerund door Gunnar en Carina Smith. Hun filosofie is: "Minder is beter"! Ze willen het gebruik van natuurlijke producten stimuleren en ze willen graag bijdragen aan het ecologisch bewustzijn en respect voor al het leven. De producten van Nea of Sweden bevatten geen minerale oliën (aardolieoliën), dierlijke grondstoffen of synthetische geuren, maar alleen plantaardige oliën / vetten en biologische kruiden en etherische oliën. Ze ondersteunen dierenrechten en garanderen dat hun producten of grondstoffen NIET op dieren zijn getest of getest!
De producten worden vervaardigd en gecontroleerd in overeenstemming met de regels van Cosmetics - Good Manufacturing Practices (GMP), wat betekent dat de producten zijn gecontroleerd op micro-organismen, bacteriën en gistgroei om de kwaliteit van te waarborgen. Nea Of Sweden is geïnspecteerd door / en geregistreerd bij het Swedish Medicines Agency, CPNP en het Swedish Chemicals Agency.