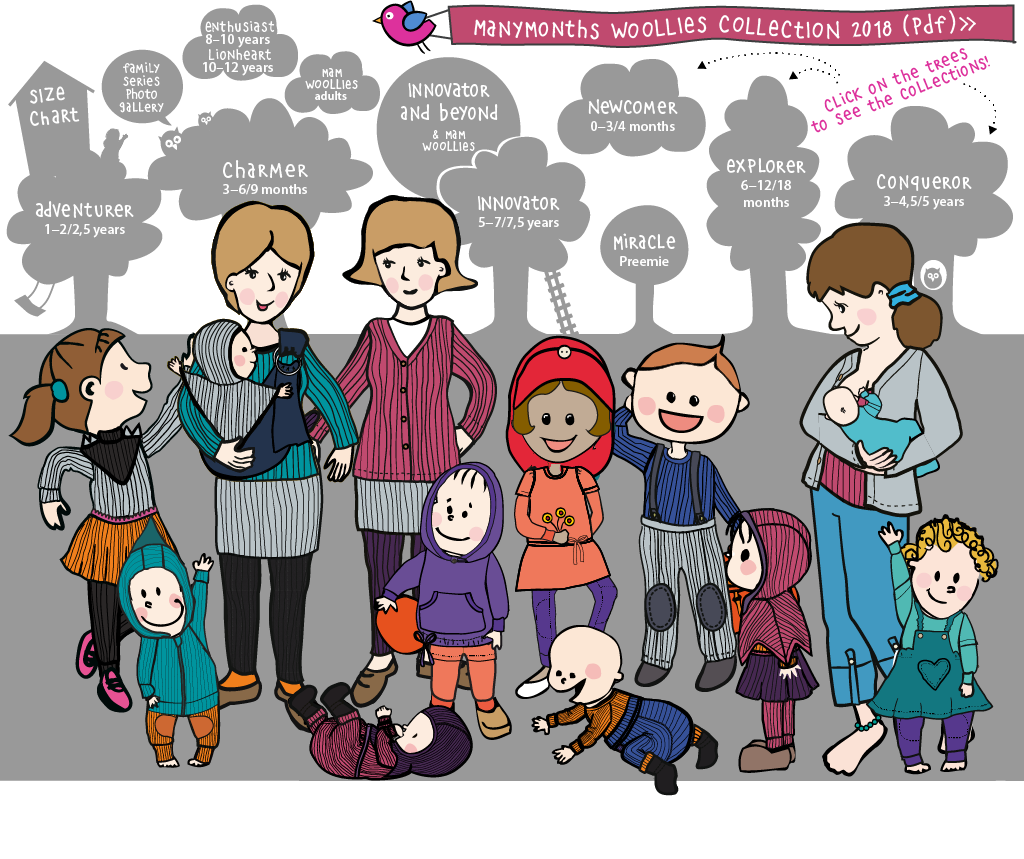 De ManyMonth Collection
ManyMonth is een totaal ander concept en staat voor gebruik van minder materialen. Het is een alternatief voor kleding die te snel te klein wordt. Je kind kan langer met het kleding stuk doen. De normale maathantering van de textielindustrie is opzij geschoven.
Ze bieden de volgende maten:  
NewComer 0 - 3/4 maanden         50 – 56 / 62 cm
Charmer    3-6 / 9 maanden         62 – 74 / 80 cm
Explorer     6 - 12 / 18 maanden   68 - 80/86 cm
Adventurer 1 - 2 / 2,5 jaar             80 – 92 / 98 cm
Conqueror  3 - 4,5 / 5 jaar             98 – 104 / 110 cm
Innovator   5 - 7 / 7,5 jaar             110 – 122 / 128 cm
Enthusiast 8 - 10 jaar                   128 – 134 / 140 cm
Alle kledingstukken zijn gemaakt van de beste materialen volgens Fair Trade beginselen, zeker zonder kinderarbeid. De ManyMonth Collection is ontworpen door Bettina Lindblom in Scandinavië, Finland. Bettina is textielontwerper, uitvinder met meer dan twintig verleende innovatieoctrooien en ze heeft een achtergrond in kindereducatie en sociale psychologie. Haar kantoor draait op pure windenergie en ze heeft drie eigen kinderen. In haar werk legt ze veel nadruk op comfort, veelzijdigheid en ecologie. De Manymonth-kinderen zijn gekleed en getekend door Riikka Käkelä-Rantalainen en ze heeft ook de website gemaakt. Riikka is een grafisch ontwerper, pleitbezorger voor borstvoeding en moeder van drie kinderen.
Het bedrijf MaMidea
De ManyMonth Collection is één van de collecties van het Finse bedrijf MaMidea. MaMidea biedt kleding voor pasgeborenen tot peuters, voor actief leven binnen en buiten. MaMIdea biedt kleding met de meest ecologische en huidvriendelijke opties: biologisch katoen, merinowol (mulesing-vrij), hennep-, soja- en bamboestoffen. De prints en kleurstoffen zijn vrij van schadelijke stoffen. Het bedrijf kiest ervoor om biologische en natuurlijke materialen te gebruiken, zodat het natuurlijk landbouwsysteem kan worden hersteld om de aarde en de grond te helpen genezen die ons allemaal voedt. Ze vinden dat elke biologische keuze voor een betere wereld zorgt voor de komende generaties: onze kinderen. Spelen, lachen, plezier ... alle aspecten van een gelukkige jeugd. Of het nu gaat om kleding, speelgoed of handige apparatuur voor het dagelijks leven, MaMidea produceert en promoot producten die de natuurlijke ontwikkeling van kinderen ondersteunen, veilig en gemakkelijk in gebruik en vriendelijk voor het milieu zijn.
Het productieproces
Het grootste deel van de kleding van MaMidea wordt gemaakt in China. Ontwerpster Bettina Lindblom en fotograaf Jerry Downs zijn een paar weken op bezoek geweest in de naai-faciliteit in China. Daar hebben ze het productieproces van de kleding gedocumenteerd en foto's gemaakt. De naaifaciliteit in China is GOTS-gecertificeerd en milieuvriendelijk. Het bedrijf is in 2004 opgericht en is in Scandinavisch eigendom. MaMidea werkt nauw samen met de coördinatoren bij de naaifaciliteit en communiceren meestal elke werkdag per e-mail. Ze Skypen verder met ze het hele jaar door. Alle leden van het personeel zijn 21+ jaar oud. Alle naaisters in de naaifaciliteit hebben minstens 2 jaar eerdere ervaring in het veld en zijn tussen de 21 en 50 jaar oud. De werkdagen zijn acht uur lang en de werknemers worden minstens 20% meer betaald dan het lokale loon. Ze hebben een ziektekostenverzekering en 3 maanden zwangerschapsverlof betaald door het bedrijf, geen gedwongen overuren en een minimum van zes volledige vrije dagen per maand. Een voedzame lunch wordt dagelijks geserveerd.
De faciliteiten zijn licht en modern, de machineprofessional en het schoonmaken gebeurt heel vaak om de lucht vers te houden. De naaifaciliteit besteedt speciale aandacht aan veiligheidsproblemen, zowel op de werkplek als in het gebruik van weefselverfstoffen. Ze werken alleen met verfstoffen die zijn getest op schadelijke stoffen. De Öko-Tex Standard 100 wordt gehanteerd en laboratoriumtesten worden vaak uitgevoerd door SGS om ervoor te zorgen dat er geen schadelijke verfmiddelen zijn toegevoegd tijdens het productieproces. Klik hier voor foto's en meer informatie (Engels) over het productieproces.